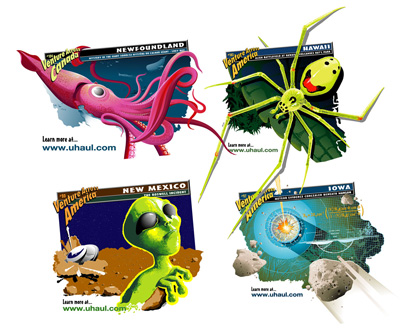 I've always been fascinated by the colorful graphics on the side of the U-Haul vehicles. From the vibrant Giant Squid of Newfoundland, to the little green alien of New Mexico, to the Happy Face Spider of Hawai'i, the graphics are an excellent way to keep the U-Haul brand name 'out there'. In my opinion, a very smart marketing move that really hasn't been matched by others. I've also wondered if there was a website with photos of the graphics and today, I finally discovered it.
The
U-Haul SuperGraphics website
features not only the current series of graphics, but wallpapers, coloring books, and some fun, Macromedia Flash-based subsites. For example, the New Mexico section uses a file folder theme with fairly detailed information about the alleged UFO crash in 1947. Not all states and provinces have current graphics, but you can also find press releases and photos as new ones are unveiled on the website.
The '
Classic SuperGraphics
' section is devoted to older vehicle illustrations, and though more simplistic, are definitely worth viewing.
Fun stuff!