The world lost another great human being on Tuesday, August 30.
My cousin, Kelly McConnell, was one of the friendliest souls you could ever meet. Whether you were a family member, long-time friend, or just introduced, you felt genuinely comfortable around him.
I didn't see much of him the last few years, but he would e-mail me occassionally, always trying to make time for me whenever I made the trip down to Calgary. Whether it was a quick get together for a bite to eat, or to invite me to stay the night at his place and chat away into the late evening hours, Kelly would welcome you with a firm handshake, a big smile and hearty laugh, and plenty of stories to tell. Just like his dad.
Kelly and I used to have wide-ranging conversations about outdoor pursuits, technology, historical and even paranormal subjects (a particular fascination we shared), movies and TV, and life in general. There was always something the two of us could find to philosophize about.
Kelly was known to have an affinity for family and friends, all wishing we could see him more often, but he was also a free spirit, constantly roaming around trying to experience all that life has to offer. He lived life the way we all should, pursuing his passions and constantly searching for something new to explore and appreciate about this planet and its people. One could easily look up to his many admirable traits and come away a better person for having met him. I know most of us did.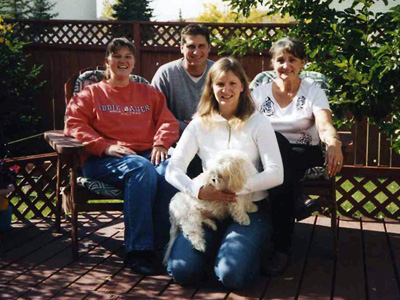 Kelly, his sisters and mom.
If there's an afterlife, he's sure to be affecting others there the same way and exploring all the crags and creeks it has to offer!
Until we see you again...we'll miss you buddy!
---
The obituary:
It is with tremendous sadness that we announce the sudden passing of our dearest Kelly on Tuesday, August 30, 2005 at the age of 36. Treasured by his mother Denise; sisters; nephew and niece (Adam and Kara Bunz), along with numerous relatives and a wealth of friends. Predeceased by father Brian (2000). Kelly had a heart like no other and loved spending time with family and friends. He is loved and admired for his devotion to always helping others and genuine interest in getting to know people. He had an affectionate smile, positive outlook and fantastic sense of humor. His enthusiasm and upbeat personality was reflected by his multitude of friends, young and old. He was the humblest guy you could ever know. Simply put, the ornaments of Kelly's life were the friends that gathered there. His awe and wonderment in God's creations was steadfast and never waivered. He had a zest for life and will be remembered for his adventurous spirit from mountain and ice climbing to photography (mountains, glaciers, sunsets, waterfalls) and most recently his passion for motorcycling. Kelly's message to each of us is clear: slow down, relax, listen and love one another without judgement. He never complained or tried to impress others, he just wanted all of us to be happy. The Lord has brought Kelly home to reward him for all his inner riches. Thank you for enriching our lives Kell. May God Bless you and keep you safe and secure in the palm of His hand. We will miss you Kell Kell. XOXOXO. I love you big brother.
Prayers will be held at HERITAGE FUNERAL HOME,
1708 - 16 Avenue N.W. (across from the North Hill Shopping Centre)
Monday, September 5 at 7:00 p.m.
A Funeral Service will be held at St. Joseph's Roman Catholic Church,
640 - 19 Avenue N.W.,
Calgary, Alberta
Tuesday, September 6 at 11:00 a.m.
HERITAGE FAMILY FUNERAL SERVICES
"Heritage Funeral Home"
Telephone: 299-0100.
Published in the Calgary Herald from 9/1/2005 - 9/2/2005.
Update:
You can view a Kelly McConnell Flickr photoset I've created at
this link
.