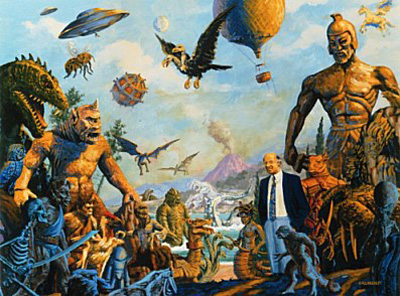 Ray Harryhausen tribute painting ©
Jim Dallmeier
.
Stop-motion animation legend Ray Harryhausen will be helping to develop a series of new features, TV movies, video games, and merchandising under the
Ray Harryhausen Presents
banner for
Mindfire Entertainment
according to
Reuters and the Hollywood Reporter
via Yahoo! News. From the article:
Producer Mindfire Entertainment, which joined forces on the projects with the 85-year-old director, said several scripts are in development -- one set in Greek mythology and another with an alien invasion theme. Production on the first film is set to begin in the fall.

The plan is to release one movie in the $15 million range and three TV projects in the $4 million range every year, Mindfire CEO Mark Altman said. Harryhausen will oversee all visual effects, which will be done in CGI (computer-generated imagery) but will be in the spirit of his stop-motion effects, Altman said.

Harryhausen said "utilizing the incredible advances in visual effects technology" would enable him to reach an entire new generation of audiences. "These stories are universal, and I could not be more thrilled than to revisit some of my favorite worlds -- past, present and future -- in these new films," he said.
As a great admirer of Harryhausen's work, I'm thrilled to hear that he's bringing out some fresh ideas from old worlds for all of us to enjoy. Take a look at many reecent feature films (
Jurassic Park
,
Starship Troopers
,
Peter Jackson's King Kong
) or video games (
Killer Instinct
,
Age of Mythology
,
God of War
) and I guarantee you'll see the Harryhausen influence.
Even if Ray does nothing more than provide the initial concepts and inspiration, you can bet the projects will be both epic and fantastic.