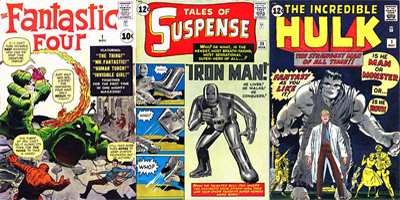 The X-Men, The Fantastic Four, Captain America, Iron Man, The Silver Surfer, The Incredible Hulk, Thor, Sub-Mariner, Daredevil, The Avengers, Galactus, Dr. Doom, Challengers Of The Unknown, Forever People, The New Gods, Mister Miracle, Kamandi, The Inhumans, Ka-Zar, Ant-Man, Giant-Man, The Black Panther
, and even
Devil Dinosaur
. These fantastic characters and a universe more of the Super Heroes and Villains that we continue to enjoy in comic books, films, and television, owe a large part of their existance to one man: Jack "King" Kirby.
Whether directly or through his influence, Jack Kirby's mind and pencil turned out more ideas than most publishers put together. Kirby was known to save his unused ideas, but if he didn't keep everything, he probably threw away more ideas than most creators came up with good ones. Even though Jack helped create what would become a billion-dollar industry with writer Stan Lee, in his later years, he would struggle to regain the dynamic art he created while at
Marvel Comics
. His artwork would inspire people of all ages, but it was mostly influential on the children and teens who would grow up to become today's most recognized creative professionals. Comic Book Artists, Film Directors, Actors, Producers, Writers, Paleontologists, Archeologists, Designers, and Sculptors often remark that Kirby's work was a big factor in their career choices. Or at the very least, a strong influence on their imagination. Ask any Comic Book artist, writer, or publisher who the single-most influential person on the industry was, and Jack's name would probably be the first out of many mouths. Challenge a friend to strike a 'Super Hero Pose' and you can probably trace that stance back to a drawing of his. Invite them to name a Comic Book hero or group, and you'll find that Kirby was probably linked to it at some time in his illustrious career. Even today, like other
artists
, his influence finds its way into my work in the form of an energetic, design element appropriately named '
Kirby Krackle
.' It's a way for many of us to say 'Thanks, Jack!'
I never got a chance to meet Mr. Kirby. He passed away in 1994, before I attended my first major Comic Book Convention, the
San Diego Comic-Con
in 1998. As is the case with
Jim Henson
and
Walt Disney
, Jack Kirby would be one of the top few creative people I would have immensely enjoyed meeting. If nothing more than to simply pass on my appreciation for all the heroes he brought to life that made my childhood such a fun time. To many of today's fans, we know Jack only by photos and drawings, but a recently discovered
rare video interview with Kirby
has been posted on TVParty.com. Jack discusses
Captain America
,
The Fantastic Four
,
Thor
, and the artists that influenced him. For most of us, this is the closest thing to being able to see and hear the creator discuss his career in his own words.
Thanks to the many great Comic Book Conventions and the Internet, Kirby continues to receives praise from legions of fans and professionals alike. I've collected some links which I hope will give you more insight into the man considered to be a God among Comic Book Creators, Jack "King" Kirby.
The Jack Kirby Collector
celebrates the life and career of the "King" of comics through interviews with Kirby and his contemporaries, feature articles, and rare & unseen Kirby artwork. Now in tabloid format, the magazine showcases Kirby's art at an even larger size.
Mark Evanier, a comic book, cartoon, and editorial writer whose credits include
Groo the Wanderer
,
Scooby Doo
,
Plastic Man
, and
Thundarr the Barbarian
, has a great
sub-site of Jack Kirby information
. Once there, you'll find not only the great photo of Kirby (above) but
The Jack F.A.Q
as well, and a touching memorial to 'The King.'
A small
biography
on Jack can be found at The Comic Art and Graffix Gallery.
UGO.com's "
A Tribute To Jack Kirby
" features Kirby's last interview, an industry tribute, and a retro review of the 1976
Captain America Annual
.
One of the coolest Kirby links,
Monster Blog
showcases Kirby's lesser known, but equally amazing creations, the monsters of titles like:
Amazing Adventures
,
Strange Tales
, and
Journey into Mystery
. There's a great image archive of cover scans and a descriptive 'Meet the Monsters' section.
Even the spiritual symbolism in the work of Jack Kirby is explored at
scienceandreligion.com
. Using
The Fantastic Four
,
The Silver Surfer
, and
Forever People
, the site attempts to demonstrate Kirby's influences from the Bible.
The Words & Pictures Museum of Fine Sequential Art presented a tribute to Jack Kirby from April 6 to May 7, 1994 and among many of his works of art, quotes from Kirby were on display. Perhaps none were more relevant to his career than this one:
"Comics are a universal product. They have no boundaries. You can use them in a very serious manner or just for laughs. Comics can be used to educate, to entertain or to provoke deep thought. A well-read person will one day produce a classic epic in comics, one that everybody will remember. I wanted to do that, but I think that's going to be somebody else's job. I'm happy that I got the chance to accomplish what I did."
Little did Jack know, that the 'well-read person' would turn out to be himself, creating those epic stories that have become the basis for today's modern mythologies.
Update:
Thanks to
Palaeoblog
for providing a link to the
Kirby Comics
blog. Head over there to discover articles, artwork, and tributes to the comic book legend.
Amazon.com | Amazon.ca purchase links:
Purchase Jack Kirby Books
|
Purchase Jack Kirby Books
Purchase Marvel Comics Books
|
Purchase Marvel Comic Books
Purchase X-Men Books
|
Purchase X-Men Books
Purchase Fantastic Four Books
|
Purchase Fantastic Four Books
Purchase Iron Man Books
|
Purchase Iron Man Books
Purchase Silver Surfer Books
|
Purchase Silver Surfer Books
Purchase Incredible Hulk Books
|
Purchase Incredible Hulk Books
Purchase Captain America Books
|
Purchase Captain America Books
Thanks for your support!