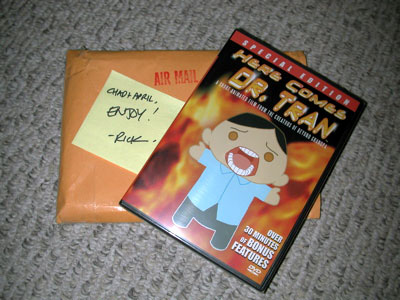 Guess who arrived in the mail today?
That's right!
Dr. Tran! Here! Now! Forever!
The 'Special Edition' DVD sports over 30 minutes of Bonus Features!!
Also included in this incredible DVD package:
16 pairs of 3D glasses!

A 24-piece fold-out Dr. Tran Movie Poster!!

A Dr. Tran and Friends Paper Doll Playset!!!

A coupon for 30% off of the Dr. Tran 30,000 DVD Box Set!!!!

A 'BUY ONE GET ONE FREE' coupon for the 10 kg bag of Hickory Smoked Horse Buttholes!!!!!

A Redemption Certificate good for One Complimentary Session of seriously hot dic[CENSORED]...uh, well you know...!!!!!!!

A Cowboy Hat!!!!!!

OK. I lied. It doesn't really contain any of those things, just the DVD. Unless my copy got raided at Customs...in which case I best call on...Dr. Tran!!!

If you haven't ordered your DVD yet...(all you folks hitting the blog in search of the good doctor!!) get your butt over to the official Here Comes Dr. Tran website and make the purchase!

Thanks Rick (and Breehn)!