One of the best things about Halloween is working your way through the candy and treats throughout the year. In addition to this year's haul, be sure to check out my 2005
blog post
for a bunch of tasty Halloween leftovers from last year!
AUDIO GOODIES: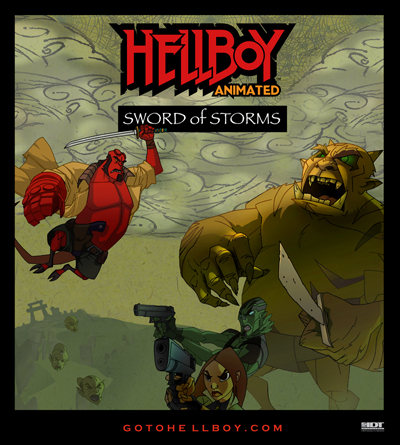 Characters © Mike Mignola. Art © 2006 Starz Media, LLC and Revolution Studios.
An audio interview with
Hellboy
and
The Amazing Screw-On Head
creator, Mike Mignola, can be found over at
Word Balloon
. Mike discusses the upcoming
Hellboy Animated
films, working with Tad Stones, more Abe Sapien and BPRD adventures, and the big red character's beginnings. *Contains potentially offensive language near the end. (via
Hellboy Animated.
)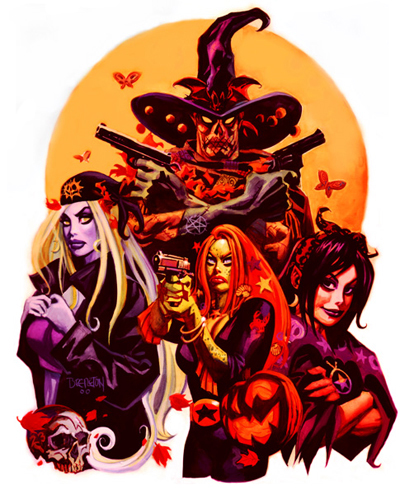 The Nocturnals © Dan Brereton.
What's Halloween without Dan Brereton's
The Nocturnals
? The Gunwitch, Doc Horror, Halloween Girl, Polychrome. Great names. Great characters. Great stories. Great art. Check out another great Word Balloon
audio interview
...this time with the creator of the fascinating Halloween-style characters himself.
Note to movie and TV producers:
Where's the
Nocturnals
movie or animated series we're all waiting for? These easily-translatable characters, if handled properly, could potentially be a box office tentpole film or series!
Tunes for Ghostbusting:
Ghostbusters Project:Remix
. Use the free
Switch
application to convert the WMA files to MP3 or other format.
Flip4Mac
(also free) is also required for conversion.
VIDEO LOOT: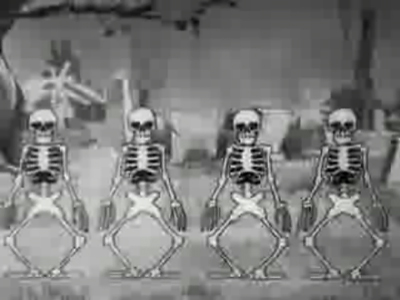 The Skeleton Dance
© Disney.
Tune in to Disney's classic
Silly Symphony
animated short,
The Skeleton Dance (1929)
, on YouTube.
Lonesome Ghosts
© Disney.
One of my all-time favorite Disney animated shorts,
Lonesome Ghosts
featuring Mickey, Donald, and Goofy, can also be found over on YouTube.
"Bustin' makes me feel good!" -
Ghostbusters by Ray Parker, Jr.
SWEET GRAPHICS: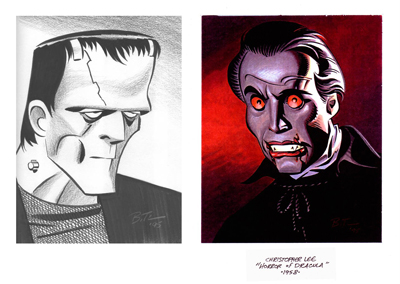 Art © Bruce Timm.
Arglebargle has a
blog post
on Bruce Timm's monster art as well as influential poster artist
Reynold Brown
. Some really fun images! (via
The Ward-O-Matic
.)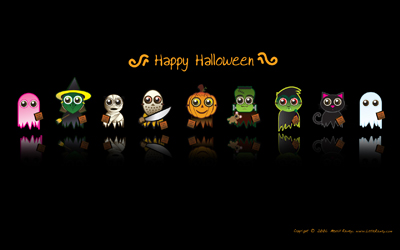 Art © Merrill Rainey.
Merrill Rainey has posted some fun icons, desktop wallpaper, and PDF coloring book at
this link
. (via
Drawn
.)
Scarloff. Art © Matt Putnam-Pouliot.
Matt Putnam-Pouliot has posted some fun wallpaper at
this link
. (via
Drawn
.) Be sure to check out his fantastic
art gallery
filled with fun ghouls and beasties!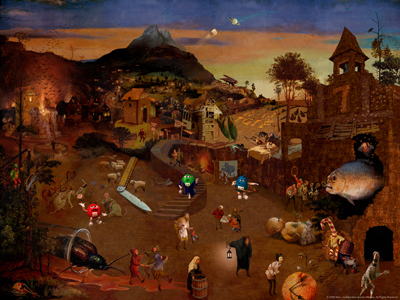 Art © Mars, Incorporated.
Guess the titles of 50 Dark Movies hidden in imagery in
this Hieronymus Bosch-like painting
at the M&M'S Dark Chocolate website.
Art © Vera Brosgol.
"Everyone Loves Mummies" is a fun
wallpaper
for your desktop by
Vera Brosgol
. (via
Boing Boing
.)
TASTY TREATS:
Photo © theprojectmaker.
Hosting a Halloween gathering? Check out
this fun set
of instructions for creepy but consumable foods for supper! (via
Boing Boing
.)
Photo © Bakerama.
Mmm-mummy cupcakes
.
GHOULISH CRAFTS:
Photo © Spooky Blue.
Carve your own decorative
tombstones
. Create fear with the
wicked scarecrow
!
Art © www.origami-club.com.
Use the leftover candy bags to make your own
Halloween origami
! (via
Monsterama
and
Paper Forest
.)
FREAKY LINKS:
The League of Robots and Monsters
BlueSky Studios Challenges - Halloween!
BlueSky Studios Challenges - Classic Movie Monsters
Smooky Ghost Story
. (via
Cold, Hard Flash
.)
Flickr photos:
Jack O' Lanterns
,
Halloween
,
Pumpkin
,
Pumpkins
,
Ghosts
,
Monsters
,
Monster
,
Spooky
,
Costume
Monstrous.com
- "The largest site about monsters."
Photo: Copenhagen, Denmark. © Warren Leonhardt.
Warren Leonhardt's
''abra macabre!" Flickr photoset.
Be sure to view his
fun blog
with other spooky postings!
Happy Halloween Boils & Ghouls!!