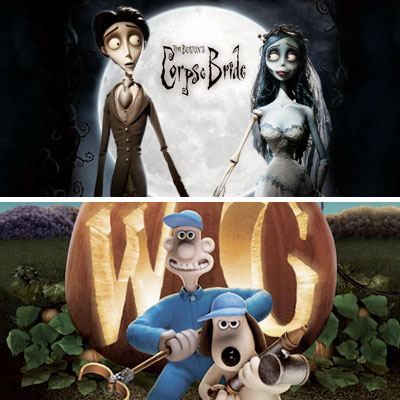 Carole Horst with Variety reports on the charming effect of clay animation on movie-going audiences:
Computer generated 3D images dominate the short history of the animation Oscar. But this year, two front-runners -- DreamWorks' Wallace & Gromit in the Curse of the Were-Rabbit and Tim Burton's Corpse Bride from Warner Bros. -- both use film's oldest animation technique: stop motion.

Wallace director Nick Park -- who has already won three Oscars for shorts, two of which starred cheese-loving Wallace and his clever dog Gromit -- fashioned a plasticine Little Britain for the film, with artists painstakingly manipulating the plastic clay figures, then photographing them frame by frame.

"Audiences love the technique. Audiences think (the characters) are real people and they respond to them," says Wallace producer and Aardman Animation principal Peter Lord, adding, "once you've seen an army of 2 million in a CGI movie, you stop being moved," and people react to the reality of claymation.

Tons of clay was used, and CGI was only used briefly -- and only for scenes in which traditional claymation methods would not work.

"The technique doesn't hold you back," says Lord. " There's nothing you couldn't try."

Corpse Bride was shot using two dozen digital cameras and five Power Mac G5 desktops. Tim Burton and animation vet Mike Johnson directed the film that used puppets covered with Latex "Skin" -- inside each puppet was a full animatronic armature that was manipulated to create frame-by-frame movement and facial expressions.

"There's something compelling about the tone and style," says Johnson. "But the most important thing is the story."
Read the full article at the link above.
Tim Burton's Corpse Bride
© 2005 Warner Bros. Entertainment Inc.
Wallace and Gromit
© 2005 Aardman Animations Ltd. DreamWorks Animation L.L.C.