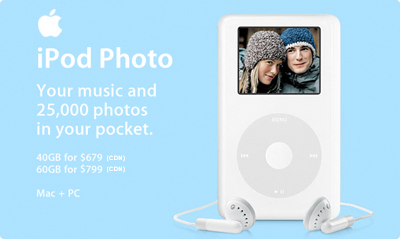 When MP3 players started appearing on the market, I looked at many and didn't find one that met all the requirements I had in mind. If Apple made one, I knew they would do it right. It's been 3 years since the introduction of the Apple iPod and if you've got one, you know how wonderful they are. My wife purchased one for me as a Christmas gift and I've used it almost every day. It feels great to hang on to, not awkwardly shaped like others. It possesses a clean interface - reminiscent of Apple's early Mac experience, and most importantly, it holds A LOT of songs.
I'm on my third one now, and though the iPod isn't perfect (darn close though), any flaws they've had have been addressed promptly and Apple has only kept making it better. Along with the U2 Special Edition iPod, today Apple introduced the
iPod Photo
. For those who can afford to purchase the color iPod, you'll not only have a great portable digital jukebox, but also a vivid portable digital photo album. Canadians can drool
here
.
Amazon.com purchase link (shipped to US only):
Buy an iPod Photo
Buy an iPod or iPod Mini