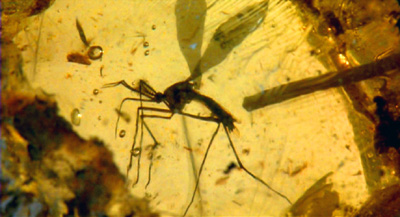 A
Jurassic Park
scientist extracts dinosaur DNA from a fossilized insect trapped in amber.
Image © 1993 Universal Studios and Amblin Entertainment.
I'm currently writing a proposal for a creative summit similar to the
Boarding: Stories & Snow event
that I was part of in Banff recently.
I'm interested to know if any of my blog readers have recommendations for scientists or filmmakers, video game designers, concept artists, illustrators, writers, directors, producers, or animators, that have a strong interest in the sciences and would be responsive to participating in a creative summit in the
beautiful province of Alberta
. Honored Guests will have the chance to come share their wisdom with attendees, mingle with other science/creative types, and see some of the best natural scenery in North America. I have a lot of great contacts already, but it's always nice to have more.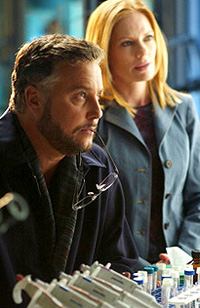 In addition to films like
Jurassic Park
,
Indiana Jones
,
The Lord of the Rings
,
Titanic
, and
Apollo 13
, documentaries and television shows such as
Walking with Dinosaurs
,
CSI
, and
Star Trek
all have strong bases in the sciences. Without the brilliant and inspiring research behind these shows, the believability factor would be greatly diminished.
Coming full circle, these types of films and shows have inspired bright young minds to choose professions in science, filmmaking, video games, writing, illustration, or computing. It's a continuous cycle that shows the symbiotic relationship between scientific research, discovery, and creativity.
The goal of the Science in Film, TV, and Interactive Media Summit is to provide innovative film makers, writers, video game developers, animators, and documentary producers the opportunity to interact with not only Canada's leading scientists, but also other world-renowned specialists, helping them to create new, cutting-edge fictional projects based on tomorrow's scientific breakthroughs.
Though this concept has been in development for a while, there is
something similar in the works through the American Film Institute
. However there is enough to make them both unique including taking place in two different geographic regions.
My interest in this is as a creative producer, putting my appreciation for science and entertainment and writing skills to good use, bringing like-minded people together in a fantastic setting. Being a self-employed film and video writer/director, I'm not expecting to make money from this concept, but rather to continue to meet some great people, refresh our creative souls, and enrich our minds. I had the chance to help out some great people on the Boarding Summit, and I hope to do the same here.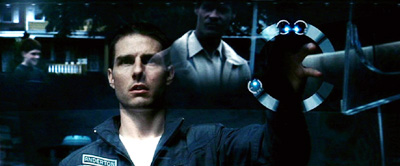 Tom Cruise manipulates an advanced visual display system in
Minority Report
.
Image © 2002 DreamWorks LLC and Twentieth Century Fox.
I don't know the specifics, but trip expenses are usually covered and speakers/instructors have an incredible opportunity to interact with receptive, creative attendees. It would be beneficial if the speakers or workshop presenters are engaging, have experience speaking in front of groups, and/or have collaborated in the Entertainment or Edutainment fields. Exact dates are unknown at this point, but it could take place anywhere within a few months from now to possibly sometime next year.
Some of the areas of interests I'm looking at are:
Archaeology

Palaeontology

Zoology / Cryptozoology

Geology

Genetics

Forensics

Cosmology

Astronomy

Aeronautics

Aquatic Sciences and Exploration

Cryogenics

Cybernetics

Medicine/Epidemics

Physics

Nanotechnology

Computer Sciences (including animation, special effects, etc.)

Robotics

Advanced Interface Design (Man/Machine/Computing)

Art/Illustration/Conceptualizing (science or science for film/tv/interactive)


Of course we have a 'dream list' of people like James Cameron, Steven Spielberg, Michael Crichton, Ray Harryhausen, and Phil Tippet but these guys are very busy creating, so we're not getting our hopes up. I do know, that with the names we've already got potential interest from, it would be quite successful.

If you would be willing to provide contact information to me, or forward my contact information to them, it would be very much appreciated.

A huge thanks to all of you for helping us out with this!

CSI Photo © 2005 CBS Broadcasting Inc.
Ghosts of the Abyss Photo © 2003 Walt Disney Pictures / Earthship Productions / Walden Media